iDMAa 2013 Laguna Beach College of Art & Design
Laguna Beach's stunning shoreline and mountain vistas have long been a destination for the creative, progressive and the affluent.  Once the epicenter of "alternative" culture, various groups have made Laguna home, drawing inspiration from the valley's beauty and lifestyle.This eclectic and culture-rich community is the home of Laguna College of Art and Design (LCAD) – a fitting host for fast forward: 2013, iDMAa's eleventh national conference held November 6-8, 2013.
This three-day conference included keynote academic and industry speakers, lively Pechakucha presentations, a juried art exhibition for faculty and student work highlighting creative research in interactive media and digital arts, plus topical discussions focused on the future of digital media in industry and evolving pedagogies in academia.
This year's speakers included:
Scott Ross, Founder, Digital Domain
Meridith Amdur, V.P. of Digital Strategy, DirectTV
Jim Merrick, Marketing Director of Games & Entertainment, Qualcomm
Ian Stevens, Executive Producer, Microsoft Studios
John Stevenson, Animation Director

iDMAa 2012 New World School of the Arts, Miami
FastForward 2012 was held on November 8-10 in Miami, Florida. As an organization focused on collegial collaboration—celebrating the best practices within educational institutions and private enterprise, we believe that FastForward 2012 was the most stimulating and productive gathering we have hosted as we looked ahead to the future of media, culture and arts education.
FastForward 2012 was hosted by The New World School of the Arts—a hybrid campus part of the University of Florida and Miami/Dade College. The NWSA campus was located in downtown Miami offering plenty of attractions that are within a short walk or one can explore the area via the free MetroMover monorail. The Hyatt Regency Miami—our primary hotel—was within a few blocks and optional lodging was available in the same area.
This year's speakers included:
Frederick & Laurie Samitaur Smith, Owners and Founders of Samitaur Constructs
Evan Hirsch, Founder, Engine Co. 4
Greg Mitchell, Cinematics Director, Epic Games Studio
David Gallo, Ph.D., Director of Special Projects for the Woods Hole Oceanographic Institute
Meredith Amdur, General Manger of Online Services for Microsoft
Richard Hilleman, Chief Creative Officer of Electronic Arts
No IDMAA Summit would be complete without the IDEAS art exhibition and Student Showcase. IDEAS will be in a formal gallery within the NWSA and a special interactive gallery is being created just for the Student Showcase.

iDMAa 2011 Savannah College of Art & Design
The ninth annual International Digital Media and Arts Association Conference!
The conference was held on October 13-15, 2011 and in Savannah, GA, home of the Savannah College of Art and Design, our host sponsor.
The issues focused on were design, innovation and story….and their confluence as we approach our future.
This year's speakers included:
Kate Kemker, Southeast Education Development Executive at Apple, Inc.
Robert Greenburg, Chairman, CEO, Global Chief Creative Officer, R/GA
Max Ciccotosto, Founder and CEO of Wishpot Inc.
Reuben Steiger, Managing Partner, IPG Media Lab

iDMAa 2010 Emily Carr University, Vancouver
New digital technologies and media are informing, challenging and reinventing our notions of narrative structures and storytelling. Non- linear, virtual, artificial, interactive and cyber culture have become common terms and concepts when describing the emerging integration of science, art, and sociology.
The 2010 iDMAa conference, "The Digital Narrative," explores ideas of how storytelling and communication is influencing and influenced by new and emerging technologies. Come join us at Emily Carr University on Granville Island in Vancouver, British Columbia on November 4-6, 2010.
"I liked spending time with and learning from people who embrace an interdisciplinary mindset and who are interested in seeing how their own research applies across a spectrum of applications."
"I loved having the chance to meet with colleagues in the same field as me. I also really enjoyed all of the innovative things happening."
"The experience broadened my horizons and gave me a good idea of what other people in my field are thinking about and creating. It also influenced my way of thinking when working on projects and coming up with creative ways to tell a story."

iDMAa 2009 Ball State University, Muncie, Indiana
The 2009 iDMAa "@ the Digital Edge" conference came to Ball State University in Muncie, Indiana, November 5-7. The conference featuured pre-conference workshops, keynote presentations, panels, a lounge environment for ad hoc discussions, and an insider's look at Ball State's state-of-the-art digital media facilities.
Our keynote speaker this year was Tom Kelly, general manager of IDEO, which was named one of the World's 50 Most Innovative Companies by Fast Company magazine.
The conference featured numerous speakers, the iDEAs exhibit, paper presentations, and the Student Showcase.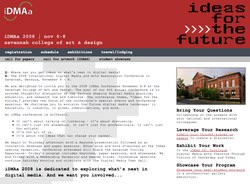 iDMAa 2008 Savannah College of Art & Design
iDMAa 2008 "Ideas for the Future" conference was in Savannah, Georgia. Sponsors included Schematic, Safari, Savannah College of Art & Design—our local host, and others.
Speakers included Paul Ledak, Vice President, Development, Digital Convergence, IBM who spoke on "Dynamic Machinima and the Convergence of Media, and Gaming Worlds"
The Innovation Showcase—Kurt Kratchman and Schematic's friends showed us innovations in robotics, adaptive interfaces, motion prototyping, nanotechnology and more…
The conference also included Mahalo.com, Turner, a mobile media showcase, Autodesk, a Digital Media town hall meeting on the future of our field and much more.
iDMAa's "Ideas for the Future" was truly riveting, and the events in historic Savannah kept us entertained and engaged.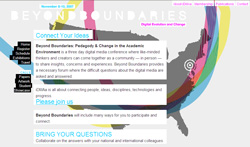 iDMAa 2007 Philadelpha
Beyond Boundaries: Pedagody & Change in the Academic Environment was a three day digital media conference where like-minded thinkers and creators came together as a community — in person — to share insights, concerns and experiences. Beyond Boundaries provided a necessary forum where the difficult questions about digital media were asked and answered.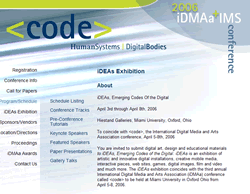 iDMAa + IMS 2006: CODE
The iDMAa 2006 conference at the beautiful campus of Miami University (Oxford, OH) was a smashing success. We saw many new faces (and many familiar ones) as iDMAa and the Interactive Media Studies program (IMS) at Miami put together a compelling range of exhibitions, presentations, paper sessions, and tutorials.

iDMAa 2005
Building on the success of iDMAa's inaugural conference in 2004, iDMAa 2005 provided attendees with a compelling blend of interactive workshops, hands-on tutorials, presentations from industry leaders (including Bing Gordon, co-founder of Electronic Arts), and networking opportunities. The conference also spawned several working groups charged with addressing many different challenges faced by iDMAa member institutions. iDMAa 2005 was also the scene of growing momentum behind iDMAa's first special interest group – Game Studies – which sponsored several workshops, a tutorial, and machinima screening.
iDMAa 2004
With more than 200 registrants, the Spring 2004, first-ever iDMAa conference was a smashing success. Educators, practitioners, students and artists from all over the world attended the 3-day event in Orlando, Florida (March 10-12). The workshop-focused format allowed participants to connect, problem solve, and strategize together as leaders in the field discussed today's challenges and tomorrow's opportunities in digital media and arts.