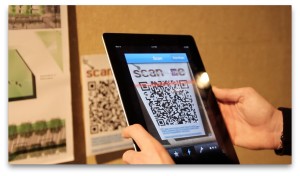 As educators, new technology allows us to challenge our students like never before.  Not only do they have more options to create multimedia concepts but, with a little creativity, they can also share their work outside the classroom with a variety of audiences.  If you think about it, the latter challenge – finding ways to get their work seen and critiqued – is absolutely critical to our students' development and future careers in the field.
Here at Ball State, faculty and students do inventive, multimedia and interactive work in class, but, after that effort, only a small percentage of it is seen or critiqued by the outside world . . . up until now.  This semester I have heard of two innovative ways instructors are helping students get more attention for their digital media work.
Like many architecture students across the nation, our students present studio design projects in poster presentations at different points in their program.  Typically, these presentations are to their instructors and classmates alone.   Here at Ball State, students in Simon Bussiere (Landscape) and Lohren Deeg's (Urban Planning) studio classes, present their work beyond the classroom.  Last week their designs were hung the Architecture Building lobby, and through QR codes, visitors could fill out an online critique survey, post comments and or visit web sites to get additional information about the work.   One student showed redesign plans for a performance area and then provided a video showing dancers actually performing in the finished space.
In another example, Ball State Information Technology is exploring how student work can be made available to a mass audience using Adobe's Digital Publishing Studio.  Released last summer, this software solution migrates multi-media work into a tablet environment, offering interactivity and other features that cannot be done in print or with non-digitized assets alone.  Journalism Graphics instructor, Jennifer George-Palilonis' students use a plug-in to convert print stories and graphics into interactive pieces that include imbedded video and interactive elements.  The plug-in is free of charge, and access to server space is available for an annual fee.  These tools not only give the user multimedia functionality, but student pieces can then be distributed to an international market through the Apple App Store or Android Marketplace.
Palilonis' students are working on dozens of projects with departments across Ball State's campus – everything from a sports app to a museum exhibit that delves into the science behind the Star Wars franchise.  One project, Prism, is documenting an experiential learning collaboration between music and theater students who are teaching disabled children social skills through the performing arts.
These solutions are delivering a broader audience for student work and should challenge them to push for even greater innovation.  What have your programs tried?
http://idmaa.org/wp-content/uploads/2013/03/Qr-reader.jpg
1194
2034
iDMAa .org
http://idmaa.org/wp-content/uploads/2016/04/iDMAa-no-circle-300x202.png
iDMAa .org
2013-03-29 01:52:03
2016-04-09 13:45:17
Creating New Audiences for Student Work