Senior Fellows
The iDMAa Senior Fellows represent a resource of experienced academics and others whose backgrounds include significant academic and/or industry-based field experience. This selective corps of talents is available to iDMAa members for program evaluations, guest lectures, special program consultation, tenure and promotion reviews, and other program development assistance.
While each Fellow may be contacted individually or through the iDMAa Executive Director, this group is generally available as a service to iDMAa members. Depending on the nature of the request, fees, if any, may be at reduced rates and expenses will depend on each circumstance. This is a service provided by iDMAa to member institutions.
Current Senior Fellows:

Chris Blair
Coordinator, Digital Media Studies
Professor, Communication Arts
Union University
1050 Union University Dr., Jackson, TN 38305-3697
cblair@uu.edu
Chris Blair is a Professor of Communication Arts (tenured) and the Coordinator of Digital Media Studies at Union University, an undergraduate interdisciplinary program bringing together faculty and courses from the departments of Art, Communication Arts and Computer Science. Since 2003, Blair has served on the Board of Directors of the International Digital Media and Arts Association, where he currently serves as chair of the board of directors. Blair has presented at numerous conferences on digital media issues and trends, and his work in digital media education has been published in the International Digital Media and Arts Association Journal.
Blair received his undergraduate degree in Communication Arts and Religion from Union University. He received both his Master's degree and Ph.D. in Communication from the University of Memphis. In addition to providing leadership for the DMS program, Blair teaches courses in Digital Storytelling, Digital Filmmaking and Interactive Media. Blair previously served as the chair of the Communication Arts department at Union University. He has been invited to serve as a program reviewer for a number of universities across the country.
---

Jennifer Burg
Professor, Department of Computer Science
Wake Forest University
PO Box 7311, Winston-Salem, NC 27109
burg@wfu.edu
Jennifer Burg is a Professor of Computer Science at Wake Forest University. Having received Master's degrees in English and French at the University of Florida, she returned to school after eight years of teaching to re-educate herself in computer science. She received her Ph.D. in computer science from the University of Central Florida in 1993. Her research is digital media and curriculum development for interdisciplinary courses. Her textbook, The Science of Digital Media, published in 2008 by Pearson/Prentice-Hall, covers digital imaging, audio, video, and multimedia programming.
From 2007-2010, Burg has worked under two National Science Foundation grants: "Revitalizing Computer Science Education Through the Science of Digital Media" with Conrad Gleber of La Salle University; and "Linking Science, Art, and Practice Through Digital Sound" with Jason Romney from the University of North Carolina School of the Arts. Through these grants, Burg has hosted workshops across the United States, exploring the interdisciplinary relationships between computer science and other digital media-related disciplines. In 2009, Burg began working on a second book entitled Digital Sound and Music: Concepts, Applications, and Science, co-authored by Jason Romney. Burg's grant activities and curriculum material are available at http://www.cs.wfu.edu/~burg
---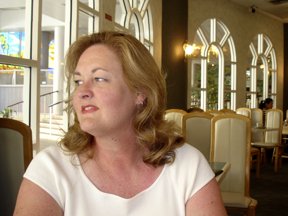 Cher Cornett
Associate Professor, Digital Media
East Tennessee State University
PO Box 70701, Johnson City, TN 37614
cornettc@mail.etsu.edu
Cher Cornett is an Associate Professor (tenured) in the Digital Media Program at East Tennessee State University, where she was the Director of the Niswonger Digital Media Center for six years. She has been teaching in digital media programs since 1995, and has worked professionally as a graphic designer, illustrator and photographer for over 30 years. Cornett received her BFA in Graphic Design from the University of Georgia, and her MFA in Illustration from Syracuse University.
Prior to coming to ETSU, she owned and operated CC Design, a design and multimedia studio in Tallahassee, FL; then chaired the Graphic Arts Technology program at State Technical Institute at Memphis where she built one of the first interactive multimedia programs in a 2-year state college. She later coordinated the Interactive Multimedia Masters Degree Program at Southern Illinois University.
Cornett currently serves on the Board of Directors of the International Digital Media Arts Association (IDMAA), and served for 6 years on the Board of Directors of the American Advertising Federation (AAF) of Northeast Tennessee. She is a member of ACM SIGGRAPH, and the International Game Developers Association (IGDA).
Courses she teaches at ETSU include New Media Communication & Research (graduate), Visual Thinking, Raster-Based Imaging, Advanced Raster-Based Imaging (graduate/senior), Narrative Design and Documentation for Video Games, Portfolio Development, and New Media Journaling and Documentary (studies abroad). Her research and creative endeavors include curriculum development and teaching strategies for digital media; lenticular printing; digital photography, compositing and fine art printing; computer-based interactive instruction for K-12; computer-mediated human communication, and digital storytelling for game design. She is also an instructor/coach for ETSU's National Student Advertising Competition team.
She has served as an external reviewer for several programs and is interested in helping universities who need assistance with starting or evaluating their digital media programs.
---

David Ferguson
Executive Director, Center for Media Design (CMD)
Associate Vice President, Emerging Media Initiatives
Ball State University, Muncie, IN 47306
dferguson@bsu.edu
In his 30 years as a university administrator, Ferguson has held a number of positions including Department Chair, Graduate Program Chair, College level program coordinator, University Promotion and Tenure Committee Chair, and founding director of several research institutes. Prior to joining academia, Ferguson was in private practice with architectural and land planning firms in the Midwest.
Under his guidance, the Center for Media Design has created four immersive learning Institutes, a research arm – Insight & Research, that conducts internationally recognized media research, and has initiated hundreds of projects that engage faculty, students and experts from the private sector. These efforts also support both graduate and undergraduate programs in interdisciplinary digital media studies. CMD has become a catalyst on campus that has helped enable awards such as three recent student Academy Awards, the Intel Wireless Campus of the Year award and numerous other recognitions.
As the head of the new Office of Emerging Media Initiatives at Ball State, he is leading a comprehensive effort to reshape how the university works across internal boundaries and with industry and government to develop new educational and commercial models that take advantage of the power of emerging media. Dave has been a part of the university faculty and administration for more than 30 years. His earlier background in Ball State's College of Architecture and Planning provided deep grounding in interdisciplinary design programs, sustainable cities design, computer visualization, and strategic planning applications.
---

Conrad Gleber
Director, Digital Arts & Multimedia Design
La Salle University, Philadelphia, PA 19141-1199
gleber@lasalle.edu
http://conradgleber.com
Conrad Gleber has had a long and distinguished career in art and new media design for communications. He exhibits digital artwork, sound and video installations and outdoor urban screen projections.
Gleber and New York artist, Duff Schweninger, recently produced "Dialogues with Artists in Cuba," a 60 minute, video documentary that reveals the life and work of five young artists in Havana, Cuba. He has served as a founder and president of the International Digital Media & Arts Association and helped to found the New Media Caucus of the College Art Association.
His sculpture, photography and artists' books have been exhibited widely including at the Art Institute and Museum of Contemporary Art in Chicago and at The Museum of Modern Art in NYC.
Currently, he serves as the director of the Digital Arts & Multimedia Design program at La Salle University in Philadelphia.
---

Michael Moshell
Professor of Digital Media
University of Central Florida
Orlanda, FL 32816
jm.moshell@cs.ucf.edu
Michael Moshell is a Professor of Digital Media at the University of Central Florida. He founded the Visual Systems Laboratory at UCF's Institute for Simulation and Training in 1990, and served on the National Research Council panel to establish research priorities for Virtual Reality in 1994. Working from the Visual Systems Lab, Moshell and colleagues developed a certificate program in Digital Media which led to the establishment of UCF's undergraduate degree program in Digital Media in 2000. Moshell led the Digital Media Program and Department from 2000 to 2005. In 2004 he wrote the proposal that resulted in the creation of the Florida Interactive Entertainment Academy, and served as its first Director.
Currently Moshell's research focuses on the role of volunteers in science centers, and innovative media systems to support the participation of retirees and other remote volunteers in the educational programs of science centers.
Moshell was a founding member of the Board of iDMAa, and served as its President in 2003-4. He is interested in visiting with and assisting universities who wish to initiate or extend their academic programs in Digital Media.
---

Michael Niederman
Chairperson, Television Department
Columbia College
600 South Michigan Avenue, Chicago, IL 60605-1996
mneiderman@colum.edu
Michael Niederman is an award winning film and video maker and is currently the chair of the Television Department of Columbia College, Chicago. His award winning projects include the dramatic film The Paled Man, which was screened nationally, the documentaries Voices from Northern Ireland, shown on the PBS network, 7 Day Wonder, Presumed Guilty and Shades of Grey all of which have been aired on WTTW/Chicago. In the summer of 1996 he served as the Host/Interviewer of Reel Time, a thirteen part series focusing on student film/video makers and their works produced at and broadcast on WYCC/Channel 20, Chicago.
He works extensively in the corporate and educational media production, writing films and tapes for a wide variety of organizations, He has written and lectured extensively on television, popular culture and emerging narrative forms. He is currently working on a noir graphic novel and an article about franchise narratives.
---

James Oliverio
Professor & Executive Director
Digital Worlds Institute, University of Florida
PO Box 115800, Gainesville, FL 32611-5800
oliverio@ufl.edu
James Oliverio is internationally known as an educator, creative artist and digital media producer, and is a frequent keynote speaker and consultant to education programs. He has served as Professor of Digital Media and as Director of the Digital Worlds Institute at the University of Florida since January 2001. He holds five Emmy Awards from the Atlanta chapter of the National Academy of Television Arts and Sciences, along with numerous national grants and commissions.
Additional recognition includes the Inaugural "Peoria Prize for Creativity" (2005) for producing the globally-distributed performing arts collaboration entitled "Hands across the Ocean" and the "Most Courageous and Creative" Award in the High Bandwidth Challenge at the 2001 Global SuperComputing Conference. Oliverio's work in global distributed collaboration has been featured on CNN International and the BBC. Oliverio has partnered with research institutions around the world to create "In Common Time" (ICT), a series of globally-distributed performing arts collaborations. ICT has been featured in specially commissioned real-time events including "Non Divisi" for the Internet2, at the Los Angeles Convention Center for SIGGRAPH 2005, and at the 2006 College Music Society National Conference.
In addition to performances of his original music scores by ensembles including the Cleveland Orchestra and the symphonies of Atlanta, Pittsburgh, Columbus, Oliverio has produced for and collaborated with Wynton Marsalis, Jazz @ Lincoln Center, the New York Philharmonic, the New York City Ballet and the Film Society of Lincoln Center.
Before coming to the University of Florida, Oliverio served as the Artist in Residence at the Georgia Institute of Technology, and also as Founding Director of AudioLab in the Graphics, Visualization and Usability (GVU) Center in the Georgia Tech College of Computing. Previously he served as Visiting Associate Professor of Music and Director of Music Technology at Georgia State University.
---

Glenn J. Platt
Professor and C. Michael Armstrong Chair,
Armstrong Institute for Interactive Media Studies
Miami University, Oxford, OH 45056
Glenn.Platt@muohio.edu
http://aims.muohio.edu
Glenn Platt is Professor and Co-Director of Miami University's Armstrong Institute for Interactive Media Studies. Glenn received his Bachelor of Arts (Honors) from University of Florida and his MS and PhD from Carnegie Mellon University, graduating in 1993. He is currently the C. Michael Armstrong Chair in Interactive Media Studies and a Professor of Marketing at Miami University, where has been Director of the Interactive Media Studies Program since 2000. Glenn, along with his colleague Prof. Lage, coined the phrase "inverted classroom" with a 2000 seminal work outlining the benefits of using technology to move active learning into the classroom and lecture outside of class.
Glenn has won Miami University's School of Business Teaching Effectiveness Award, the Associated Student Government Effective Educator Award, the University Distinguished Service Award, and the University's Knox Award for Teaching. Glenn is also President-emeritus of the International Digital Media and Arts Association and presently works with the iDMAa Advisory Board. He has taught in Europe, Asia, and Latin America, developed full curricula in interactive media, game studies, and related fields, served as program review consultant, and provided advising on best practices in interactive media. Besides directing AIMS, Glenn teaches the AI capstone consulting course as well as courses in Social Media Marketing and Internet Marketing. His present research and consulting interests are in the areas of Social Media, Internet Marketing, Design Thinking and eCommerce.
---

Gail Rubini
Professor and Director of the BFA in Design Program
Florida State University
College of Visual Arts, Theater and Dance
Tallahassee, Florida 32306 -1160
gail.rubini@gmail.com
http://grubini.com
Gail Rubini is an artist and designer working in the field of new media and teaching
the practice of printing and publishing. She comes to design and new media with a B.A. in Math and Fine Art (Honors) from University of California at Los Angeles, an M.F.A. in photography and glass art from the Rhode Island School of Design, and an MBA specializing in finance from the University of Illinois at Chicago. At the Center for Media Arts in New York City, she was the Dean of the computer graphics and media arts school and has served as an evaluator for NASAD (National Association of Schools of Art and Design). She has worked in the publishing field for over 25 years and often involves students in special projects ranging from experimental artwork to corporate work benefiting community causes. She is an active member of Rhizome.org (an organization connecting art and technology), College Art Association (www.collegeart.org is the largest national art association), New Media Caucus (newmediacaucus.org a non-profit, international membership organization formed to advance the conceptual and artistic use of digital media), University Film and Video Association (www.ufva.org is a organization promoting university level faculty in the making and teaching of film and video), and is on the Advisory Board of the International Digital Media Arts Association (idmaa.org (iDMAa) dedicated to serving educators, practitioners, scholars, and organizations with interests in digital media).
She has worked in photography, offset lithographs, artist books, digital prints, and "net art" including flash animations and web sites. Her current interest is in collaborative projects in science visualization and public installation work that includes video, flash animations and sound. She is currently working on Alaska,too a 10'x27' permanent video+web installation that streams thousands of pictures of Alaska. Other projects include: Project Leader for a European Graphic and New Media Design Program in London; designX: critical reflections, an exhibition, website and publication discussing the current role of design in our culture; The Future of the Book of the Future, a series of exhibitions, publications and an award winning web site that examined the future forms of the book and the dissemination of ideas; Silent Invaders, a website for middle school students to explore effects of invasive plants and animals in North American ecosystems; Burning Issues 2 and Fire at Wildhorse Basin DVD and web site that explores the use of fire management in North America public lands; and Personal Media – Public Good, 5 short video and flash pieces designed for cell phone delivery that explored ways that mobile media interaction can be used to enhance the social quality of life.
---

Jeff Rutenbeck
Dean, School of Communication
American University
Washington, DC
jeff@american.edu
Jeff Rutenbeck is dean of the School of Communication at American University in Washington, DC. Before joining AU in July of 2012, Jeff was the founding dean of the Division of Communication and Creative Media at Champlain College in Burlington, Vermont. During his 6 years at Champlain he oversaw growing programs in game design, game art and animation, communication, public relations, graphic design and digital media, digital filmmaking, broadcast and streaming media, creative media, professional writing, and emergent media (MFA). From 1989-2006 Jeff was a professor and administrator at the University of Denver where, in 1996, he founded the interdisciplinary bachelor's and master's programs in Digital Media Studies—a combination of communication, art and computer science. He is also the founding president and current board member of the International Digital Media and Arts Association.
His digital life began in earnest in 1987 when he joined Microsoft and worked on the development team of Word for Windows 1.0. Over the last 20 years he has continued to consult with many institutions and organizations about digital media, including Microsoft, Hewlett-Packard, AOL-Time Warner, The Cable Center, The Guanghzou Media Group (China), Miami University, and Canisius College.
His scholarly interests range from media history (especially 19th-century American journalism) to current dilemmas in the digital age, and his work has appeared in a wide variety of publications including Journalism History, Journal of Communication Inquiry, American Journalism, Library Journal, Mass Communications and Journalism Quarterly, and others. He has a bachelor's degree in history and political science from Colorado College, a master's degree in journalism from the University of Missouri-Columbia, and a Ph.D. in communication from the University of Washington.
---

Scott A. Shamp
Director, New Media Institute, College of Journalism
University of Georgia
Athens, Georgia 30602-3018
sshamp@uga.edu
http://www.nmi.uga.edu/
Scott A. Shamp is the Director of the New Media Institute in the Grady College of Journalism and Mass Communication at the University of Georgia. The New Media Institute is an interdisciplinary unit created to explore the creative, critical, and commercial implications of new digital communication technology. In his new position as the Director of the New Media Institute, Dr. Shamp is helping companies map out strategies for success using new communication technologies and students carve out careers in the rapidly evolving field of new media.
Currently Dr. Shamp heads the Mobile Media Consortium at the University of Georgia. This industry/academic partnership is dedicated to promoting mobile media and wireless development. The Mobile Media Consortium focuses on the role of wireless technologies in improving individuals' quality of life. Industry partners in the Mobile Media Consortium have included Intel, Nokia, Cingular, McDonald's, HP, Turner Broadcasting, BelAir Networks, and iAnywhere.
Shamp holds the rank of Professor on the faculty of the Telecommunications Department in the Grady College of Journalism and Mass Communications. Shamp received his undergraduate (ABJ 1981) and Master's (MA 1983) in Journalism from the University of Georgia. He received his Doctoral degree in Communications (Ph.D. 1989) from the University of Utah where he studied how computers affect the ways people communicate with one another.
Dr. Shamp has provided consulting services for several companies including Turner, Disney, UPS, Coca-Cola, and First Union. In addition, Shamp holds a patent and trademark for his work in wireless and mobile media. During his tenure at the University of Georgia, Shamp has served as the Director of the Dowden Center for New Media Studies and the Director of Information Technology for the Grady College of Journalism and Mass Communication.
---

Ray L. Steele
Distinguished Professor, Center for Information and Communication Sciences (CICS)
Ball State University
Muncie, IN 47306
rsteele@bsu.edu
Dr. Steele was the founding Director for the interdisciplinary CICS masters program and led it for 22 years, during which every professor in CICS attained the rank of professor, and its over 1400 graduates maintained a 90%+ rate of successful employment. He served as the Center's first Distinguished Professor, has regularly published and been a presenter for over twenty years in the U.S., Europe, Canada, Mexico, Asia and Latin America. He has successfully raised funds at the 7 figure level, helped to found and lead as President or Chair of the Board the U.S. Distance Learning Association, the International Telecommunication Education and Research Association, the Indiana Distance Learning Association and he led the founding of the International Digital Media and Arts Association and has served as its Executive Director since 2003. He previously served as Assistant Provost at the University of Pittsburgh and has led a consulting firm, which has worked with higher education as well as business organizations since 1972.
He is a Frank Stanton Fellow with the International Radio and Television Foundation, and has won awards in leadership, service and technology areas from BICSI, the State of Indiana, ITERA, ICA and others. He has created interdisciplinary academic programs at Pitt and Ball State and served as a program and outside faculty reviewer as well as consulted with academic institutions across the U.S.
Criteria for Selection
Candidates for iDMAa Senior Fellows must have at least 10 years academic or combined academic/industry experience, part of which included leadership responsibilities. Senior Fellows must be nominated by an iDMAa Board of Directors member and the board must elect nominees to the Fellows by a majority vote. All nominated Fellows must submit vitae to their board nominator who is then responsible for vetting and having the vitae available for board review.